Bali, Lombok and Gili islands belong to the archipelago of the Lesser Sunda Islands. Island of Bali is famous in the archipelago. Lombok is east of the famous island Bali. The Gili islands are a few kilometers northwest of Lombok.
Bali, Lombok and Gili Islands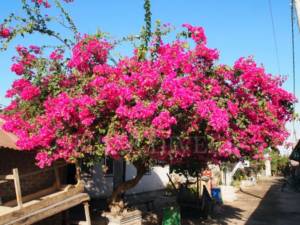 Lombok and Bali are both volcanic islands. Bali has an area of 5,​633km2 with a population about 4 million people. Lombok is smaller, has an area of 4,739 km2 accommodating a population of 3.2 million people.
The Gili islands
The Gili islands are Gili Trawangan, Gili Meno and Gili Air.
Gili Trawangan is the furthest island from Lombok but the largest among the three islands, measuring 3km from north-south and 2km from east-west. Gili Trawangan is now crowded except the hill. Gili Meno is in the middle of Lombok's three Gili, the smallest and the least developed island, a salt water lake lies on the north-western part of the island. Of the three Gilis, Gili Air is the island nearest to Lombok. Gili Air is similar to Gili Trawangan without a hill.
Together, their total area is 15 km2 with approximately 3,500 residents.
Powered vehicles WERE prohibited on the Gili Islands. Now there are many electric scooters and a gasoline vehicle.
Mode of transportation on Gili islands is in the form of horse cart or expensive cidomo, walking or riding a bicycle.

Vila Ombak Divers is a diving center located on the south-east of Gili Trawangan, just outside the village and next to the beach. The village center is merely 5 minutes' walk.
Every evening, the night market in the village opens. Food stalls are set up in an open area. Tables and chairs are available around the stalls for diners to enjoy their meal. Local fast and slow food, BBQ seafood, beers and drinks are at your order.
Environmental protection around the Gili islands
The Gili Islands are protected areas for marine life.
Over 100 artificial reefs have been built and placed around the Gili islands to restore the reefs.
Turtles around the Gili islands are protected. Each island has a turtle nursery to hatch and grow baby turtles. Baby turtles grow in saltwater pools until they are mature enough to be released back to the sea, thus, increasing their survival rate.
This is why the waters around the three Gili islands have a healthy population of turtles. Two species are thus preserved the Green Turtles and Hawksbill Turtles.
Gili Eco Trust (GET) in Gili islands is actively engaged on helping the reef sharks. Reef sharks are rescued from Bali market and transported to Gili islands for release. So far, white tip and black tip reef shark, bamboo shark and leopard shark have been released in the Gili islands.
Activities and attractions in Lombok and Gili Islands
Besides diving, there are many other activities you can enjoy in Lombok.
Snorkeling
Other than diving, snorkeling is another perfect way to discover the beautiful coral reefs of Gili islands. Our Diving Center offers snorkeling three different kind of snorkeling activity. For more information, please visit our page.
Other activities on Gili Trawangan
The main activity of Gili Trawanga is : The Parties, every night there are some parties.
If you want to dive around Gili islands in a quiet area, you should stay in Lombok. Our dive center in Sire beach is 10 minutes far to Gili islands.

Strolling around Gili Trawangan : You can make a circuit following the main street or explore the life of locals by taking the smaller path inside island where you can find school, mosques, rubbish area, small shops.

Feeling energetic : you can have parties every night If you don't like the noise and party, you should don't stay in Gili Trawangan.

Feeling lazy: Lazing on the beach or in your hotel pool with musics, bars, restaurants and cycles parking.

For horse lovers, there is a riding school on Gili Trawangan. You can ride on our beautiful beaches or on the paths of the island.
Gili Trawangan is also known for its festivals, nightly parties are organized in different pub each day.
Stay in Lombok
You can stay in Lombok and dive in Gili islands, you will :
discover the wonderful underwater life of Gili islands

have a quiet and peaceful area

have more activities available
access to a nice beach
Diving and what else to do in Lombok?
The Sasak are the main population of Lombok.
You can spend a day or several days in Lombok. You can do a day trip visit local handycraft and pottery shops of Sasak. Stop along the way to watch the monkeys, rice fields and short hike to waterfalls. Longer trip is required if you plan to climb the Mount Rinjani and visiting the monkey forest.
For more information on Lombok, please contact us.
Treks on Rinjani in Lombok
Rinjani is the third summit in Indonesia, measuring 3,726m above sea level. This is a huge caldera (a very large crater) resulted from the explosion of the volcano in the Middle Ages. A portion of the caldera is occupied by a lake.
Various treks are organized to explore the volcano, including trekking to its peak. The trekking tour to the top takes 3 intense days. However, four days are preferable if you want to take the time to enjoy the scenery. Even though trekking is done on mountain terrain, a minimum of physical fitness is required.
And for divers, there must be a surface interval of 18 hours after the last dive before you begin the hike because of the altitude.
If you want information about hiking Mount Rinjani and the various tracks that are available, do feel free to contact us.